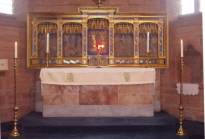 Autumn Newsletter 2019 
It is indeed my immense pleasure to express sincere thanks to the joint family of All Saints Lockerbie & St Johns Moffat for the lovely warm welcome given to me as the Rector on 14th August 2019. I experienced the guidance of God's Spirit when I was instituted by the Most Reverend Dr Mark Strange. Me and my family were so touched by the incredible warmth welcome and generosity of the ministers, vestry members and the church members. I would like to say that there is much work to be done in the world, and I look forward to doing that work together with the members of the All Saints Lockerbie family.
Families are amazing things. They are for most people, what they are born into, a place where they grow and are nurtured, a place of safety. All Saints Lockerbie is called by God as a church family to open that loving family out to everyone around us. We are a family of community-oriented mission. We, the community of God's love come together every Sunday to participate in a Love-Meal instituted by Jesus Christ and other worship services including Taize service. We welcome all to be nourished with the love of God and go to our valleys and hills to announce and witness the same love.
Rev Paul Singh J R
Well what a year this has been! From relying on retired clergy for our services every week, having joint Vestries with St John's Moffat, advertising for clergypersons, short listing, interviewing and then finally selecting Rev Paul Singh J R. Not only do we get a new Rector but a splendid family in Abida, Kegan and Kevin. We are so fortunate and already we feel the start of an exciting phase in our Christian development in Lockerbie and Moffat. The selection and appointment has brought us much closer to the Moffat congregation and indications from recent Vestry meetings see us working together, sharing occasional services and social events. We have met such generosity from all sides in preparing for the Singh family. What a wonderful institution we had at St John's with the Primus Mark Strange leading the processions, and singing which would match any cathedral. A thundering good buffet followed!
Rev Paul is earnestly taking driving lessons and hopefully a driving test soon. Kegan and Kevin are enrolled and settled into the new term at Lockerbie Academy and along with Abida we have welcomed them to our services at Moffat and Lockerbie. We also look forward to Rev Paul receiving his Doctor of Philosophy (PhD) at Edinburgh University later this autumn.
With a new clergyman appointed to Dryfesdale Parish Church shortly we have the opportunity of re-establishing a strong ecumenical relationship with all the Lockerbie Churches, new brooms and all that!
We must remember all the help we have had from retired clergy during the eighteen month interregnum. Without them we would be in a sorry state. Rev John Stevenson, Canon John Higgins, Rev Steven Ballard, Rev Christopher and Rev Anne Wren together with Jane Stevenson, Kay Higgins and Elizabeth Ballard all in support, we have been most fortunate. We hope to thank these clergy on an appropriate occasion this autumn.
Good news: Kath Leadbeater is now an Authorised Worship Leader for All Saints, Lockerbie. Kath has undertaken a training course with the Diocese and can now conduct Services in our Church. She already organises our monthly Taize Service which is proving to be most successful and is drawing a wide range of people from non church goers to those of  different faiths. Throughout the interregnum, Kath has kept our Thursday 4pm Evening Prayer going for which we are most grateful.
Your Vestry has been trying hard to keep up with developments and we ask you to carefully note the following dates on your calendar/diaries.
Saturday September 21st Annual Gift Day in the Church from 11am to 1pm.  Church members are invited to call, make a donation and have Coffee/Tea and a chat. This event replaces the Annual Coffee Morning in the Lockerbie town Hall.
Thursday September 26th 7pm Taize
Sunday 29th September 1pm BBQ for neighbours, friends and Church members in the Church grounds or in the Church if wet. The Wardens can still cook outside under the gazebo! Neighbours         will be invited to meet the Rev Paul and family and we hope we can say thank you to the Clergy who have helped us during the interregnum. The BBQ will follow shortly after the11.15 Morning Service is concluded.
Sunday 6th October 11.15am Joint Harvest Festival Service with St John's Moffat to be held at All Saints Church. Following the Service we will be providing soup, and rolls followed by tray bakes/biscuits, tea and coffee.
We will as usual be filling shoeboxes as our harvest gifts. Leaflets have been ordered from Blytheswood Care.
Sunday 24th November 11.15am Short Communion Service followed by All Saints Church Annual General Meeting. This will be kept as brief as possible but we need to hear about our financial matters and elect our Vestry and officials.
Sunday 22nd December 11.15am Service of Carols and Lessons (without Communion)
Tuesday 24th December 6pm. Christmas Eve Service and Communion followed by festive drinks and eats(mulled wine and mince pies!)