Welcome to
All Saints Lockerbie
 As we celebrate this Easter Season.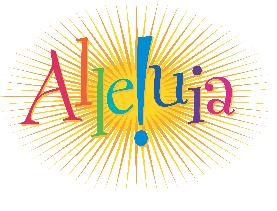 Jesus Christ has risen from the dead after three days in the tomb following his passion and crucifixion and through these events the relationship with the world and God its creator changed forever.
Throughout the planet Christians are celebrating God's incredible love in sending his eternal Son to be born as one of us and to live and die for us. All of humanity has now the promise of everlasting life through the resurrection of Christ from the dead.
This is the simple message of Easter and the Gospel we live by. Despite all the troubles in the world and our own personal sorrows there is a God who loves us and calls us to a new life of joy for eternity. So as you spend a little time on our website during this season please do so with rejoicing and thanksgiving in your heart.
May the Blessing of Almighty God, the Father, the Son and the Holy Spirit be with you and those you love this Easter time and always.
Thank you for visiting.

Welcome to
All Saints Lockerbie
You come and you visit our website and we have no idea if you are 5,000 kilometres away or in the next street. Somewhere in between, probably. Well, we are a small but devoted congregation and although I say it myself, I believe we are friendly and welcoming. I think one of the special characteristics of our faith is that if you go to church in a strange place, you should be able to say that you have a ready made body of friends or at least, potential friends in that Christian community. So if you are looking for somewhere to worship God in the Anglican style, in a place where you will be welcomed, be it passing through on holiday, or because you live in this part of Annandale, do come and join us for our main service at 11.15 on Sunday morning, we would love to see you.
Service times are as follows:
Sunday –  11.15 am Sung Eucharist,
Thursday – 4 pm Evening Prayer with discussion and Holy Communion