All Saints, Lockerbie
Readings for 3rd Sunday of Lent
Acts 3: 12-19
1 John 3: 1-7
Luke 24: 36-48
Revd. Dr. S. Ballard
————————————————————————————
Sunday 28th May 2017 – Ascension Sunday
Luke 24. 44-53
It's been a dark week. And the cloud which seeks to block the warmth and light of the Sun spreads the shadow of death from Manchester to Egypt and is one that we've come across many times before. It has its source in the hearts of men who have been turned from their humanity to follow an ideology in which there is neither tolerance nor generosity and which sees in the joy of life something to be suppressed and shut down by whatever means. Indeed they are very enemies of life for they destroy indiscriminately – without sympathy for age, gender or ethnicity, be they children at a concert or a bus in Egypt loaded with Christian families for a visit to a monastery. Those they kill are in a sense – grievous though their deaths are – the by product of their wider purpose which is to sow debilitating fear, and division, and hatred in the hearts of those who belong to the culture of this land which they now wish to destroy. By this means, they will, if we let them, turn us against each other so that we become re-made in their image. We remember the years of conflict in which the IRA, by the same tactics, sought to achieve a similar outcome and we did not let them then, and we do not let these do so now.
Our humanity calls us to try to understand the terrible thinking of those who do these things, the hatred that must be in their hearts , and who justify their evil and add to their sin by saying it is done in the name of God. Some say it is down to our national foreign policy and there may be something in that, but the Manchester bomber was born here and anyway, if we believe that we are personally responsible for our actions – my choice, your choice – the sin must lie fair and square on the soul of the doer.
Our immediate reaction to these events might be a sort of stunned disbelief – not again – followed by something like a cry of anguish, as we are moved by the pain of parents and families who in the most sudden and disordered sort of way have had someone they treasure and love snatched away with extreme violence —— or those who have survived, wounded in body and soul, to their permanent disfigurement. We grieve, our hearts go out to them so that in spirit we share in their sorrow and understand with renewed clarity the words of the poet who said "every man's death diminishes me."
We might seek some sort of revenge. But the only lawful way to do that is through the criminal courts (not revenge but justice) and for that you need to capture the evildoers together with evidence of sufficient quality and quantity to withstand the challenges of defence counsel. And that is right and lawful. The other way is to visit our anger on people of the same ethnic origin and apparent religion as the destroyers, take it out on them, but that would reduce us to their de minimis level of humanity. And we would regret it, binge followed by hangover, injustice feeding on injustice – hate breeding bitter hate and we, sowing the poison seeds of the future.
Anger, righteous anger is perhaps a response. Righteous because it is justified by the manifest and extreme wrong which has been done. In the Telegraph on Wednesday the columnist Allison Pearson wrote a powerful article "Even before their bodies were cold, the great and the good were crowding onto the airwaves to murmur their self soothing mantras about hope being stronger than fear, strong , vibrant, communities, keep calm and carry on, business as usual. How dare they. They insult the dead who deserve their country to be outraged and anguished on their behalf. Why should we be calm when our children are considered a legitimate target for mass murder."
And she spoke about the government channelling "justifiable public anger into drastic action."
These are shocking words, and I was shocked, because I considered myself among the first group, those who thought all those calm and soothing words. Taken aback by the strength of her emotion I wondered for a confused moment, am I wrong in my thinking? Should I be thinking as she says? Balance that with the words of Paul from his letter to the Ephesians : "Be angry but do not sin; do not let the sun go down on your anger, and do not make room for the devil." And that is always the very great danger with anger, that it makes room for evil.
You might say that anger in the face of monstrous wrong is wholly justified as on this occasion. My concern is that if such anger is not controlled, held in check, it may crystallise into further violence. Yes it may act as a lightning conductor, discharging to earth as it were, the high energy of the emotion of that moment. And it may be that if there is no visible anger, it may be internalised and suppressed and become the cause of future stress in oneself. But I always have the concern that anger, especially if it appears to be approved by those in authority, may get out of control & take us back to the place of darkness.
Last Thursday I travelled to Castle Douglas for our regional Ascension Day service in the company of our Primus, Bishop David Chillingworth. We spoke about these events and he reminded me of Gordon Wilson, whom he had known when he was a parish priest in Enniskillen. Gordon & his daughter were buried under the rubble of the IRA bomb detonated to coincide with the Remembrance Day Parade in Enniskillen in November 1987. Trapped beside her under it all, he held her hand as she died. Her last words to him were "Daddy, I love you very much." In an interview with the Belfast Telegraph later, he said, " But I bear no ill will. I bear no grudge. Dirty sort of talk is not going to bring her back to life. She was a great wee lassie. She loved her profession. She was a pet. She's dead. She's in heaven and we shall meet again. I will pray for these men tonight and every night."
Gordon Wilson was a man of extraordinary compassion and love. I believe that we should all hope that if we are ever in that sort of situation, we would be able to respond as he did and pray for the killers of those we love.
In Thought for the Day yesterday, Archbishop John Sentamu quoted Martin Luther King junior, "Darkness cannot drive out darkness; only light can do that. Hate cannot drive out hate; only love can do that. "
And those words: "Hate cannot drive out hate, only love can do that." Have been seen repeated again and again and again on posters and signs wherever people have gathered in Manchester over the last few days.
I find in these words a wonderful hope, for the people of our nation , of all races and religions, because I believe that when people turn out in their thousands, fired by the strength and power of these words, to show their sympathy for the wounded and those who mourn, their intention not to be cowed by those who would propagate fear, it indicates a level of emotional and spiritual maturity on which we can unite and build a future. These words are the light of the God of Love shining in the hearts of the people of that great city, showing us their humanity. And in our service today we celebrate the Ascension of Jesus who is now seated at the right hand of the Father from whence he rules his Kingdom of love, which kingdom shall have no end; and of which Kingdom, we, now, in this time are members.
Jesus on the cross said "Father forgive them; for they do not know what they are doing." It is evident that God's love is for everyone, it is not qualified, it is not I love you , but only if you repent. God's love is absolute, and merciful forgiveness is an essential part of that love. So when we engage with the bomber in our minds, no matter how utterly alien he is in his thinking, we should, like Gordon Wilson, forgive him and pray for his soul – This is what we pray for – every day in the words Jesus taught us – "forgive us our sins, as we forgive those who sin against us." .
When Jesus departed this earth to sit in glory at the right hand of the Father, he said to his disciples : "Thus it is written, that the Messiah is to suffer and to rise from the dead on the third day, and that repentance and forgiveness of sins is to be proclaimed in his name to all nations, beginning from Jerusalem."
The evil of the bombers and the murderers of innocents is spawned in darkness, but we know from John's Gospel that "All things came into being through him, and without him not one thing came into being. What has come into being in him was life, and the life was the light of all people. The light shines in the darkness, and the darkness did not overcome it."
And we, you and me, will be his witnesses to this, "in Jerusalem, in all Judea and Samaria, and to the ends of the earth." Amen.
————————————————————————
Sermon on 14th May 2017
Fifth Sunday of Easter
Rev. John Macleod
The Readings
Acts 7: 55-60                                                                                                               Peter 2: 2-10                                                                                                                 John 14:1 1-14
————————————————————————————-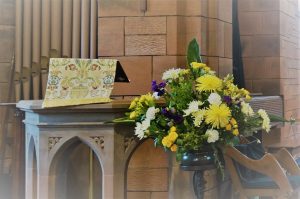 Sermon for 16th April
 Easter Sunday
Rev. John Macleod
THE READINGS
Acts 10:34-43                                                                                                                         Colossians 3:1-4                                                                                                                    John 20:1-18
————————————————–
Sermon for 12th March 2017
Rev. John Macleod
THE READINGS
Genesis 12:1-4                                                                                                       Romans 4:1-5, 13-17
John 3:1-17