Yorkshire Teacake                                           Hot Cross Buns
This is a yeast dough but don't be put off, it's not that hard to make and well worth the effort.  Every year I make up this recipe as 'Hot Cross Buns'   To me it's like having mince pies at Christmas.
Taken from 'When it's brown it's done………..'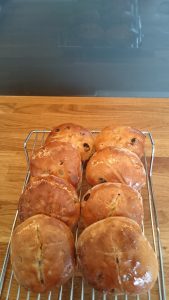 1lb strong plain flour
2oz caster sugar
½oz dried yeast
¼pt tepid water
1teasp salt
½teasp. Cinnamon
1teasp. Mixed spice
a little grated nutmeg
2oz margarine/butter
3oz mixed fruit
¾pt warm milk
1 beaten egg made up to ¼pt with warm milk
Place flour in a large bowl and sprinkle in salt and 1 tsp sugar. In a jug mix water, sugar and yeast together. Stir well and leave to froth up. You will see the yeast beginning to rise to the top of the water. While the yeast is working, rub the margarine into the flour and add the fruit and spices. Mix well. Make a well in the centre, (when the yeast is ready pour into the flour), and mix with your hands. Make into a pliable dough with the e and milk mixture (you may not need it all so don't add it all at once). When it's formed into a ball turn out onto floured board and knead till smooth and elastic in texture. Place back in bowl and cover with a tea towel. Leave in a warm place until it has doubled in size. Turn out onto a floured board and knead again. Divide into equal pieces and shape into a round bun shape (10 to 12). Roll out lightly and place on a baking sheet. Allow to rise again. When they are double in size, prick the top with a fork, or make a cross with a knife if it's Easter. Place in oven 200ºC for approx. 15 minutes until golden brown. Remove from oven and place on a cooling tray.
Suggestions
Glaze for a sticky top…Place 2tbsp milk in a pan with 1tbsp sugar and boil until sugar is dissolved. Brush over teacakes while they are still hot. Serve with lots of butter and golden syrup.
If you happen to have any left and they go a little dry, split and toast and have with lots of butter. (I always try to hide one so there is always one to toast).
This can be made in loaf tin. 1lb size is best. Cook for 15 minutes at 200ºC and then turn down to 175ºC for a further 25 to 30 minutes.