Lockerbie Primary School P1F and P1G Visit to All Saints Church Lockerbie 48 Primary One Pupils visit All Saints.
The rafters of All Saints echoed to the cries, squeaks and laughter of delighted children as they, and adult helpers, were challenged to find all the answers to a quiz based on what they could see around them.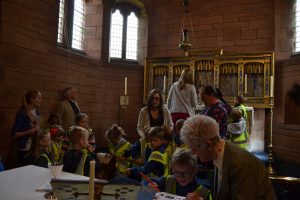 Scottish Primary Schools follow a series of documents entitled 'The Curriculum for Excellence'. The curriculum is set out in terms of experiences and outcomes and covers all the traditional areas of learning. The Christianity section of the Religious and Moral Education curriculum area requires that young children should have the experience of exploring some places and investigating artefacts to develop their knowledge of Christian beliefs and their awareness of the role of Christianity in Scottish society and the world.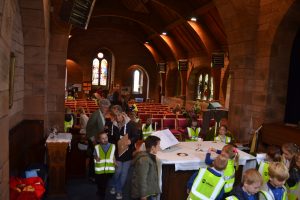 All Saints Lockerbie is ideally suited to provide this experience for young learners. The church is very beautiful and is full of interest for children. So over the last few months we have been making contact with local schools with a view to providing a learning resource for RME.
Following two classroom visits, in which they were introduced, with power point presentations, to the church and to the meaning of artefacts within the church, two classes of Primary One pupils from Lockerbie Primary School visited All Saints, accompanied by their teachers Mrs Findlay and Mrs Graham and a cohort of adult helpers.
The children were given two quizzes, one completed with adults, and the other, a pictorial quiz, completed by themselves.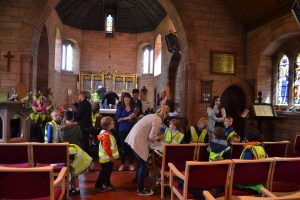 The church was filled with about sixty adults and children eagerly running about looking for clues, assisted by Rev John and Mrs Maggie Macleod, Mr Ian Stewart and Mrs Marjorie MacGregor.
Following the quizzes the pupils then watched as Rev Macleod demonstrated how some of the artefacts the children had identified were used in a church service. He also showed them the layers of ceremonial clothing that a priest in the Scottish Episcopal Church might wear.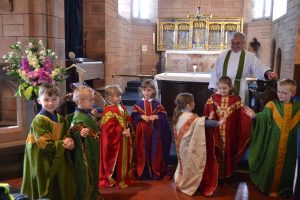 To the great delight of adults and children some eight of the pupils were draped in a series of chasubles in all the liturgical colours.
Rev Macleod then demonstrated how the font was used for baptism with the help of a large antique doll. The children appeared to be fascinated!
Other teachers have expressed an interest in using the church and we are hoping to build this area of outreach. Anyone interested in using the facilities of the church to further Religious and Moral Education should contact Rev John Macleod or Mrs Maggie Macleod.
Mrs. M. Macleod.